Party Planning
Party Planning
Ok. Most of the RSVP's are in. I ordered the vino's from
BevMo
(use code casecj for 10% off a case) and all the food has arrived.
I also ordered this ultra cute photo confetti from
Confoti Confetti
. It's of pictures of Damien & Tracey on their different trips.
When she says yes (and she better), we will sprinkle to joint with it!!
And to set the mood, I ordered candles from
Illuminations
.
Damien called me today, freakin out because he and Tracey had a spat. I was like dude whatever, fix it! This party has taken up way too much of my time to cancel now!! OK?
This is an appetizer affair, so some of the things we are having are
Jumbo Lump Crabcake
&
Spicy Shrimp Springrolls
from Appetizers To Go. (Tracey's favorite!)
I also ordered these luscious chocolates from
Dan's Chocolates
as a surprise for Damien who's loved this stuff since birth practically.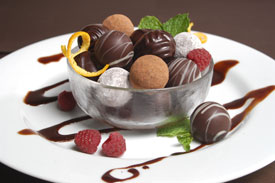 Friday Should be wicked fun!!
Stay Savvy!